Be sure to get your FREE bankruptcy information by listening to Pete "The Hammer" on Z93.
Get your questions ready and be sure to call in. If you missed the last show, you can listen to it here.

Bankruptcy Myths
Everyone will know I've filed for bankruptcy.
Bankruptcy is a legal, public proceeding, but if you are not a prominent person or a big corporation, then most likely the only people who will know about your bankruptcy are the people you tell and your creditors.

All debts are wiped out in Chapter 7 bankruptcy.
There are a few types of debts that cannot be discharged from bankruptcy. Some common types of debts are: Child support, alimony, student loans, restitution and debts resulting from fraudulent activities.

I will lose everything I have. 
Visit the "Keeping Assets" page to view the most common kept assets. Michigan law allows you to elect the federal exemptions that protect certain kinds of assets, such as your house, your car (up to a certain value), money in qualified retirement plans, household goods and clothing.

I'll never get credit again. 
Actually, debt that consistently reports bad on your credit affects your credit worse than a bankruptcy does. Over the next 6-24 months, you will see your credit score INCREASE I don't recommend immediately running up credit card bills, but if you need a vehicle or some other necessary credit, this should be available to you.

If you're married, both spouses have to file for bankruptcy.
No, this is not necessary. If one spouse has all the debt, then only that spouse has to file. However, if your debts are primarily joint, then it is recommended that you both file. If you don't, the creditor will simply go after your spouse for the entire amount.


It can be hard to file for bankruptcy. But when you have an experienced attorney working with you, the process is simple. The only thing needed from you is basic information that you should already have. Visit the "What I Need To Bring In" page for details on what is needed to file.

Only deadbeats file for bankruptcy.
Today's economy has been hard on a lot of people. The most common cause of financial hardship is divorce, loss of job or a serious illness. Most people who file for bankruptcy are honest individuals such as yourself who have been struggling to pay their bills for months and just keep falling further behind.

I don't want to include certain creditors in my filing.
ALL creditors must be listed on your bankruptcy, regardless of your intent on repaying them. The bankruptcy laws don't prevent you from later paying back the creditors that you want to. So if you want to pay the town dentist or the local boutique, you have that right.

You can only file for bankruptcy once. 
You can only file for Chapter 7 bankruptcy once every eight years. For Chapter 13, you can file more often than that, but you can't have more than one case open at the same time.

I can max out all my credit cards. 
THIS IS NOT AN ACCEPTABLE PRACTICE and is called fraud. Judges and Trustees know when this type of activity is happening, and they will review your credit card statements and look at your purchases and stop you from being able to discharge these debts.


Monday

8:00am - 5:00pm

Tuesday

8:00am - 5:00pm

Wednesday

8:00am - 5:00pm

Thursday

8:00am - 5:00pm

Friday

8:00am - 5:00pm

After Hours by Appointment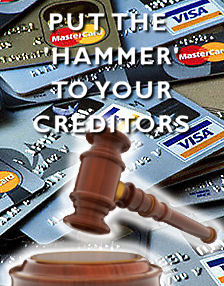 Phone:

989.790.2102

Address:

4597 State St.
Saginaw, MI 48603

Email:

Pete "The Hammer"